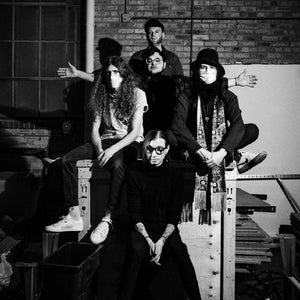 Chicago's Diagonal Discuss Their New LP -->>A Round Trip Interview!
Chicago's Diagonal announced their new self-titled album. It's their first on vinyl, and also their first with the Portland psych label Little Cloud Records. While they filmed their own record release show (without an audience) at Smashed Plastic Record Pressing in Chicago, we had a chance to sit down with the band and discuss Joy Division, the new LP, life on the road, life during the pandemic, and what an uncertain future may hold.
(we have copies --->here)
Round Trip Records: How did Diagonal start?
Dan: Alex, who plays guitar, me, and (Chris) Bun Bun were in a Joy Division tribute band called Factory. Our Ian Curtis moved away so the three of us in Chris' basement were like "Ya wanna write songs?" and it grew from there.
BunBun: The Joy Division band was an indication that we could be in the same room as each other for an extended period of time.
Alex: We tend to lock in pretty good. Even before that, Dan and I were playing together, we were into the same music and there was no one else around! 
Dan: We wanted to do something shoegaze too, and now that's devolved into whatever this is now, psych... we're big Velvet Underground fans, and Can!
Round Trip Records: What sets you apart from just being "The Shoegaze Psych Band"?
Alex: We never go into it like "this is going to be a shoegaze song, or a psych rock song". We jam. Someone has an idea and someone else takes that idea and it morphs.
Dale: Sometimes songs change cuz I fuck up on bass!
Silas: We all play wildly different genres. Dan played punk, he plays weird multi-genre rock and roll in Black Glass, and I approach every song like Foghat and dial it back (laughs)! And I try to not sing like other people, I try to sing like myself. 
Dale: My whole thing's like dreampop and Brad's in a funk band (Brbra Bush)! 
Dan: We don't subscribe to any one genre.
Round Trip Records: What is it like on tour with Diagonal?
Dale: Lots of Pepcid.
Silas: It's comfy. We tour comfy. Not because anyone's paying for it, but because it's our vacation time and we enjoy it!
Dan: It's definitely leisurely.
Alex: We had a show in Ft. Wayne, then New York and had a three day gap in between. 
Silas: It would have been the perfect tour to film. You'd say we're road dogs. We got along real well. We went on little adventures. We went to this weird, haunted and yet charming town: Jim Thorpe, PA: We'll play in you any time! By the way, the town needed to change its name for some unknown reason and THEY chose Jim Thorpe! 
Dan: There's an opera house there older than Carnegie Hall, designed by Carnegie! The town (Jim Thorpe) is from in Texas wouldn't honor him with a statue, so this random town in Pennsylvania was like WE'LL DO IT!
Silas: He was an American hero. And the town, there's a great record store, there's a restaurant that doesn't know the cost of food, so everything's SO CHEAP! The Air B N B was three stories! It had a HOT TUB! We didn't use it, BUT IT WAS THERE!!!
Dan: That Air BNB was luxurious, but when it comes to the van, it was 7 people and a bunch of gear on top of each other. But when we arrived? We ARRIVED! The bar in Jim Thorpe knew we were a band right away! Touring is a bonding experience. Cleveland was great. We played the Grog Shop in Cleveland
Silas: They had the best bathroom graffiti ever! 
Dan: We've only toured the midwest, basically. We played Minneapolis, Detroit, we wrote the song Detroit about that. 
Silas: Well, technically I played in Florida! I sang Ballroom Blitz at Gator's in Port Charlotte, Florida!...with Limp Bizkit (joking).
Round Trip Records: What does the new record mean to you?
Dale: Blisters on my fingers!
Silas: It has been the longest experience I've ever had creating something. And so I've never really appreciated that portion because we've put together records that don't require any level of production at all and I really enjoyed them. I was like this is fun, doing this punk stuff. This record was a year and a half where I was like "I will either die or quit this band before this album will get released but something is going to happen this year!". It was ridiculous! It took so long cuz everyhing was just like... it needed time to breathe. We got sick of the songs, but then we loved the songs!  
Alex: Basically, our last chunk of recording was December of 2019. So the original plan, before everything happened (the COVID-19 pandemic), was we were thinking like summer of 2020 to finish it up. 
Dan: Yeah. It was May of 2019. Anticipation, Negatives, Monotony and Waves - FOUR of the songs - date back to May of 2019. I know some people spend four years on albums, but not us! We usually spend a weekend on an album and then it comes out on Monday. 
Alex: Our songs have a structure, but they're not rigid.
Silas: We spent a lot of time recording at Key Club in Benton Harbor, Michigan. That place was friggin' MAGIC! 
Dan: We're all in the same room playing. Brian Fox who engineered it in Chicago and who went with us to Benton Harbor, he knows what we're going for. We can come in with scraps of the song and as long as we can get a decent enough live take of it, he knows where to go from there. 
Silas: I'll write as many verses as I can, then maybe it changes. I may only use two, but I'll let the take decide what I use. One of our most articulate players and one of our players who plays the least loud is Dale. Having Brian Fox with us will push his really nice, tight, clean bass tone. All of us are too selfish because we love all our pedals, but Dale gets up on that cross and SAVES US! And Fox brings that out in us. And BunBun's got this like organic machine quality. It's very like a drum machine but then he has really organic fills and things like that. So its fun because you can delve into industrial (Joy Division)/krautrocky things and Dale's more melodic, and I'm just disarray and Brumley is that high glue. Then, the guitars are just gluey awesomeness, and Brad is SPACE - entirety, depth, breadth! You may not notice it, but when you hear it without it, it makes a difference. 
Dan: We're all hippy dippy guitar players so having Chris and Dale and Bun Bun locking into a groove, it gives us room to explore, solo, as long as there's a backbone. And they always help us find our way back. We're basically a jam band at the end of the day! (laughs). But having Brian Fox there to edit is helpful. 
Silas: When we play together, it's therapeutic - the end song won't be 12 minutes, but we'll have 12 versions that are 12 minutes!
Dan: Having an engineer that you trust is great! He can say "yeah, it's good, but does it need to be this long?" 
He definitely helped us edit.  We gave him a producer credit. He was definitely more than an engineer. He keeps us in check, he keeps us from going off the rails.
Alex: It helps that the way we operate is "Just play it. If it doesn't work, then it doesn't work". It doesn't feel as mechanical. Play it: does it work? Keep it!
Dan: And Fox just has cool tricks! I had never done a true reverse guitar solo. I have a pedal that does it, but he played me that section of the track backwards and had me play along with that and then flipped what I played. Which is REALLY bizarre to play that way! I had to reverse the way I was thinking of ramping up the solo. It took like ten takes, but then we got something that sounded cool enough and then let it keep going and we turned it into the locked groove at the end of the record!
Round Trip Records: How do you guys feel about this record getting released on Little Cloud Records?
ALL: THEY'RE GREAT!
Dan: I met Mike at the Milwaukee Psych Fest, we kept in touch and we've worked with him through my job at Smashed Plastic. We would have tried to scrape our pennies together to put the record out ourselves. So, when Mike agreed to put it out, that was gigantic! It meant getting it out to a bigger audience, and Little Cloud have such a hold on the psych scene. That was where we wanted it to go! 
Alex: Yeah, no matter what, we knew we wanted to put this out on vinyl. But there's so many fans of that label. 
Dan: We can't thank them enough. They really helped promote it, helped with the pre-order, everything.
Silas: Plus their partnership with Cardinal Fuzz in London helps so much too! 
Alex: I mean, other bands that they have are GREAT! Like Nest Egg... I've liked them for years!
Dan: They've released some of my favorite psych records.
Silas: You see a lot of bands that will step out to a label and then be like "Alright, we're doing our own thing from now on". You'll see them heartbroken and then self-release everything. Money is only tighter now for a lot of...EVERYTHING cuz of what's going on (the COVID pandemic). And even just the graciousness we got with Little Cloud and the help we got with them, just the pressure that took off all of us. We don't have to scrape pennies, we don't have to rattle certain things off. We're just like "What would you like us to do? YES! That would be GREAT!" and we still get control over it. Dan makes the promos, designs, and our friend Joey made the art. 
Dan: Yeah! Joey Knox. He was gracious enough to let us use his image for the cover. It's the first time we've used art from someone outside of the band. I think Little Cloud is going to be a beautiful friendship. It's been a good family so far.
Round Trip Records: What does the future hold for Diagonal? Where would you like the band to go from here?
Alex: We're already starting to kick around some new ideas. 
Dan: We're individually working on new things and there's some ideas from this session that we'll develop and shape into new songs. LP three, whenever it surfaces and starts to take form... we all need to get in the same room, so as soon as this pandemic is over, and our breath isn't poison it'll happen... but we like to keep moving.
Alex: There's a chunk of songs we have that we're going to do something with!
Silas: There was this moment on tour when we were hanging out with Lisa and Jaye, who are Rogue Satellites, and it was just us jamming. 
Dan: They were gracious enough to let us stay at their awesome house. 
Silas:
We did that jam session and I grabbed the mic and did some more vocals and it was really fun to explore and be R2D2 with my limiter. 
Alex: They have their own studio and we stayed there and we jammed and the next day we were goign to Ft Wayne and listening to recordings. and we heard that one and it was like a SONG, not just a jam. So, we'll probably do something with that!
Silas (to the band): The question is: Do we do Detroit again? I have seen bands that have an EP that releases a song, then it's on a live album, then it makes it to the next album and it's like "Is that song THAT GOOD to you?" and I'll say: Coldplay's "Politic" IS THAT GOOD! (Laughs) Quarantine has erased my shame.
Dan: I was wondering when someone was gonna mention Coldplay... 
You can order Diagonal's new LP *here* on limited Round Trip Records Red vinyl!
---